Lesson 2
Introducing the Second String
On this lesson, we will be looking at the second and first strings together to work out a new song.
Tab notes that are close together get played a little quicker.
Star Song (traditional)
Like the first lesson, I would like for you to play the song with one finger for a day or so to get the flow, then, switch to playing the 2's with your pointer finger, the 3's using your middle finger, play the 5's using your ring finger and the 7's using your pinky.
(See Diagram)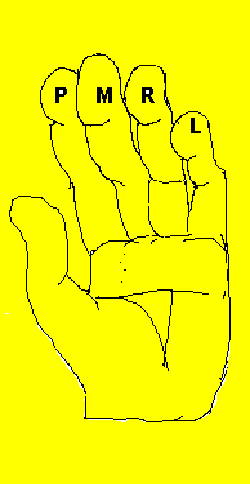 Remember to keep your thumb against the back of the neck
and not your palm.
---
GO BACK
or
GO TO NEXT LESSON
---

any questions..?Ben Miller
Byte.Me Software Solutions,
Rossford, OH