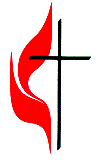 Welcome to:

THE INFO PAGE
for the
Saturday Night
Praise & Worship
Service
Rossford, Ohio

---
Hi... my friends and I are a small body of believers who want to worship God in an informal way.
In Jan 2001, I was called back to Rossford United Methodist Church to gather a team of believers to follow our Lord, Jesus Christ, into a new endeavor.
We started a praise and worship service on Saturday nights. We call the project a "Second Helping" at the Lord's Table. (the regular SundayWorshipbeing the first helping.)
It is a "come as you are" service in the parlor/chapel of RUMC. We sing for 20-25 minutes. We pray for 20-25 minutes and we have a short message of teaching from God's Holy Word.
WE seek to be God's new lighthouse for the weary of the world. For more info about this service,you can call the church or email me at the address below.
We are so excited by this work. We have been asked to pray for people all over the country who have sent us requests. This is the greatest gift that our Father has given. The sure and certain knowledge that He IS listening when we pray.
We thank God for this opportunity to be his light house. We have seen His miracles THIS year as we have prayed.
God Bless!


---
Keep those Prayer Requests or Praise reports coming. via e-mail to:Ben Miller
---
Revised -- 7/9/01