Good Day!
My name is Ben Miller. I am a Methodist Lay Pastor and one of the Toledo, Ohio, District Chaplains.
All of the awards and materials may be ordered through this web site https://www.themillergroup.com/praypub/ProductList.asp . from PRAY in St. Louis.
My son, Matthew, and I belong to Troop 43 Rossford. Our Charter organization is All Saints Catholic Parish.
I want to share with you some answers to some of your questions about the Protestant God and Country Program.

---
The God and Country Program is a set of programs for religious studies.
While no longer required, these studies are a major part of the traditional approach to the Path to Eagle.
These programs are built around a work book style of learning, following step-by-step lessons designed by some powerful prayer warriors in St. Louis, Mo. The publishing group is called, PRAY (Program for Religious Activities for Youth.) In these books, you can find activities that involve study, prayer, service projects, and a time of sharing religious values between a parent and a child and/or a mentor.

The work books are school grade specific so that the concepts being shared are not beyond the comprehension of that child. They can be purchased at your local Boy Scout Service Center OR by calling the PRAY 1-800- phone number.

---
THE CHAPLAIN
Every pack and troop should have someone monitoring (and mentoring)the activities called for in the 12th Law of Scouting. (A Scout is reverent!) This person is called the Pack/Troop Chaplain.
The Chaplain does not have to be a religious professional. When i started being our troopm Chaplain, I was a school teacher. I was a dad who wanted to bring the 12th Point of the Scout Law back to promininence in our city. When I petitioned to reform a Chaplain's Corpes (we call it the God Squad), they said I needed training. So, I entered the lay Speaker program of the United Methodist Church. This lead to the "Course of Study", which lead to my first pulpit and to very successful summers spent at Camps Miakonda and Pioneer. I miss those sylvan days and Scouts and Scouters who touched my heart.
As for the GnC programs at a local level, some Chaplains hold classes which concentrate the activities and greatly improve productivity. In the last ten years that i have done this, every child/parent team that completed the 6 week classes has gotten a badge. We found that a classroom atmosphere focuses the behaviors and helps keep the group "on task."
Some children's learning style does not lend itself to group sessions. These parents may choose to "home school" their children through this process. This is a time of true sharing, but, the success rate is lower than my organized "classes" for a number of reasons.

If I can be of any service with setting up Chaplancies or helping someone complete the requirements
please E-mail Ben Miller,
Chaplain, P-43, T-43, E-470,
Commodore Perry District,
Camp Miakonda-Toledo

---
God and Me

This award is grade specific for boys and girls who have not completed the 3RD grade. (BSA, GSA, 4H, etc.) This work book must be completed by the last day of the 3rd grade. This medal is especially valuable for the family that does not attend church but has begun to develop a relationship to God.
For the Chaplain, this is an evangelism moment. I have guided many of our pack families into the congregation of first, our church, and later, some have gone to other churches that suited their walk along the Way back to God.

---
God and Family

This award is graded for the 4th or 5th grade(after the last day of the 3rd grade and before the last day of the 5th grade.) It is centered around the idea of how your family fits into the larger Church family into the even larger concept of God's family. It is flexible enough to include the special legends and stories that make your family's beliefs precious in the mind of your child. This program must be completed by the last day of the 5th grade.
This award is an excellent tool for a family to examine their walk with God. It can be an evangelism tool for the church based troop.

---
God and Church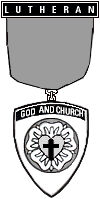 Now your child is older and readying him or herself for membership in an organized fellowship (church) for the glory of God. This is usually the time of serious training for membership and choosing.

Sadly, this is the first award that is nearly impossible for an unchurched child to complete. This workbook requires that these nearly grown young persons attend a church regularly to observe and report on the goings on of regular service, committee meetings, examining closely the behind the scenes life of the organization that we call a church.

Also, there is a substantial service project for the sponsoring church (my son's class wrote the church history by interviewing the 80 & 90 year olds for stories and pictures.) God had to have guided us on that one, because they were all dead inside of a year and those stories would have been lost.

This process creates a framework in which they can see their life as a ministry dedicated to the glory of God and what a "calling" is and/or is not.

The God & Church work prepares the candidate to take up the yoke of service when they are called to whatever ministry they are called to.

This work must be completed by the end of the 9th grade.

---
God and Life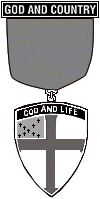 For grades 10 through 12, a young adult person examines their walk with God in a personal "one-on-one" way. It is the smallest workbook and the most challenging material requiring the highest level of commitment for a family.

Delving deep in the scriptures, this program teaches as it opens windows in a young man or woman's soul that each youth is asked to look into and examine themself.

I did this one with an Explorer that I had known since he was six.

I got to see a young man go deep within himself to struggle and see the truth about what he has received from God and what he has to offer in return.

It took us 15 months. We filled several notebooks with his written answers to the questions.

Any child/parent/mentor team that completes this has my undying admiration. It is a tough row to hoe.



---
God and Service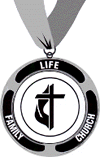 This is an award that cannot be intentionally earned. A Scout dad or mom who is a registered scouter must be secretly nominated by the administrative council of his or her home church, the Scout Coordinator, and the Scout Unit in which he or she has served many years (5+). All of this must happen secretly.

Letters of support are gathered in a file. Peers, church officials, and Scout leaders are great sources of these letters of support detailing the impact of this person's various ministries on the writer, the children, the church, and the town.
This info is sent to the local Scout committee on Religious Activities. It may be forwarded to a local, regional, or national (depending on the award) committee for further review.

When the candidate finds out, (and they will...it's a small world...) tell them they were nominated and refused by the committee. (Honest to God, that's what Bruce told me...) But you promise to resubmit their name every year until they approve you.

Then...spring it on them at the next Scout Sunday like they did me...Thank God the choir had to sing after the presentation, because there was no way that I could have spoken one single word or delivered my sermon at that moment. I was too verklempt...


---


God Bless


---

We welcome Prayer requests and Praise reports or just questions about setting up your own Chaplancy programs. They should be sent to our Chaplain: Ben Miller
This page created by Chaplain Ben Miller (11/20/97) (redone 7/30/01)
This page has been visited
times.

---
This site is part of the Scouting Web Ring

---