---
Weekly Lection
---
Meet Da Rev
---
MAPLEWOOD UNITED METHODIST CHURCH
Prayer requests can be sent to: Ben Miller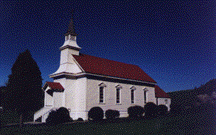 Maplewood Methodist Episcopal Church was founded as a mission of Asbury ME in 1902.

In 1968, we joined the union with our Methodist brothers and sisters to become Maplewood United Methodist Church. We are a small, friendly, country-style congregation.
Our 10:30 AM Services are informal yet, SPIRIT FILLED visits to the Lord's table.
Sadly,this church is now closed as a Methodist Church, but, she lives on as an independent. To those who fed and were fed at the Lord's table in her first century, she will remain their church home. I am leaving this site in place as a memorial to a great lady.

NEWS FLASH!!!! 2004!!!
I was driving by my old church, when I saw that some one has re-opened it.
God bless them in their endeavors to spread God's work.

---
I now serve as a musician a tiny congregation that meets on Sunday monings in Perrysburg, OH.
---